Let's address the information head-on about lake levels.
"We intentionally dropped the lake level to 1069' msl in late July to finish the erosion control work at Old Federal Campground. This action was within our normal operating authorities and procedures. Current water releases are supporting downstream needs and have been reduced to 1-2 hours of generation per day. This action is also within our normal operating authorities and procedures," said Tim Rainey, operations project manager for the U.S. Army Corps of Engineers' Buford Dam office.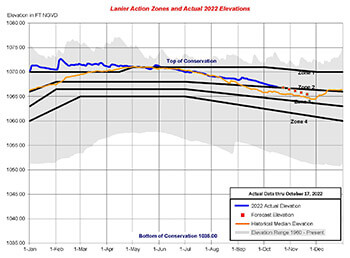 As of mid-October, lake levels were in the 1066 range the week of October 17, according to officials. The current 4-week forecast (as of mid-October) projects a drop of another foot to 1065.5 by the middle of November.
"Right now, we're really just waiting for rain and continuing reduced releases," Rainey said.
Rainey also addressed delivery of services at the Buford Project Office and Lake Lanier.
"We're essentially at the same budget level as we were 10 years ago – the same dollar amount – but because of no increases, even in consideration of inflation and the continued increase in visitation, we are not able to provide the same level of service as we did," he said. "Our operations and maintenance have remained flat for the past decade.
"It would seem logical that with increased visitation and the collection of more fees, our budget would be larger, but remember that the fees collected at Lake Lanier are not kept here," he continued. "The fees generated here are sent to the US Treasury.