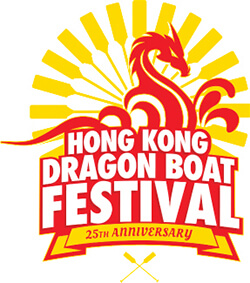 The founder of the biggest, most culturally diverse one-day event on Lake Lanier had never even heard of a Dragon Boat Festival when his boss told him to start one in Georgia. More than a quarter century ago Gene Hanratty, Southeast U.S. Coordinator for the Hong Kong Economic and Trade Office, heeded the call from the New York City executive telling him to put long dragon-headed boats on the water in the South.
"I couldn't imagine how we were going to do that here. We had no boats and I seriously doubt that there could have been more than a few people in the entire city (of Atlanta) who had ever heard of a dragon boat," Hanratty said by email recently. What started with seven teams and a few hundred people at Stone Mountain Lake in 1995 moved north three years later and grew into one of Lake Lanier's most popular events, attracting 5,000 to 10,000 participants and spectators. Celebrants at the Atlanta Hong Kong Dragon Boat Festival 25th Anniversary Sept. 10 at Lake Lanier Olympic Park will get their senses drenched in music, food, dancing and fun surrounding the legendary Chinese boat races.
"Our festival touches every one of your senses with diversity, equity and inclusion. You can see, hear, feel, smell and taste everything Asian," Hanratty said. You can even dig into a plate of Southern pulled pork barbecue and wash it down with sugar cane juice.
Although still involved with the festival, especially in signing up entertainers for the opening ceremony, Hanratty has handed the helm to marketing specialist Tracy Barth, a former Lanier Canoe & Kayak Club officer who began volunteering for the festival in 2013. Barth said the organizing committee planned to celebrate the 25th anniversary in 2020 but paused two years due to the pandemic. "We wanted to bring the festival back when everyone could enjoy the full festival experience as it was intended," she said.
That experience is like none other on Lanier. In the spectacular races, 20 paddlers per boat dig furiously into the water, ideally in rhythm to a drummer's beat. A steerer guides each 39-feet vessel outfitted with decorative dragon heads and tails. But the fun rises off the water, where other excitement steels the spotlight during a competition break at noon. Hanratty noted that the "Opening Ceremonies have become an event which many come to specifically see."  Colorful Asian dancers, acrobats, and martial arts experts twirl, stomp and fan against the blue backdrop of the lake. A human-powered dragon writhes, sways and rears up in the dramatic "Dotting the Eye of the Dragon" dance.
And, then there's the food! The spicy aroma of ginger and soy on sizzling kabobs, sweet scent of juice squeezed on site, and smoky smell of barbecue waft over the grandstands. Barth expects 15-20 vendors with "returning favorites offering chicken, beef and pork skewers, meatball skewers, papaya salad, beef jerky, sugar cane juice, Thai tea and coconut juice." Local favorite, The Inked Pig, is back, joined by newcomer A Taste of Heaven Catering. Gainesville taproom, Downtown Drafts, will have two booths pouring beverages by Liquid Nation Brewing and other breweries, plus wine, wine slushies and mimosas.
Barth plans two new features for the anniversary edition: inflatable bounce houses for kids and big screens that flash team photos and race stats.
Modern dragon boat racing traces back to 2000-year-old Chinese rituals that pitted rural villages against each other. It has emerged as a popular international water sport that has put many local amateur paddlers in dragon boats. Lanier Canoe & Kayak Club long-boaters helped paddle the 2018 U.S. team to an international championship on Lanier. Club members traditionally pitch in coaching teams, steering boats, and working other on-and-off-the-water tasks. Hanratty commended LCKC, the City of Gainesville and Barth for the festival's success.
In late July, Barth and crew were recruiting teams to potentially hit the 80-team goal. "Levels are down" after a two-year hiatus, but she said some typically wait until the last month to register. Expect to see a high turnout from corporate metro-Atlanta, plus boatloads from Northeast Georgia, including Jackson EMC, Longstreet Clinic, Liquid Nation Brewing, University of North Georgia, and Gainesville High School. Barth said teams are also coming from Florida, North Carolina, and Tennessee. A crew from Bangladesh is seeking visas to compete.
Jackson EMC, headquartered in Jefferson, has launched boats since 2011. Team leader Kim Baugh said crews value " the friendships we have made through the years" with festival organizers, the paddling community and Hall County. She also loves the "out-of-the-workplace" activity with her co-workers. "This is a wonderful team building exercise for us and allows each of our districts to come together as one team and to have a lot of fun together," she said.
Jim O'Dell, former Dragon Boat USA chairman and coach of the world champion team, expects to lead practices for festival teams this month. He will put a paddle in the hands of many who have never been in a boat before. "It's very common and normal" for neophytes to take to the water for racing after a couple of hours of practice, he said. They will likely feel more secure on race day knowing O'Dell or another experienced LCKC paddler will hold the steering oar.
O'Dell said LCKC has built relationships with festival teams after 18 years. He has also seen the competition evolve from haphazard to organized. He chuckled about Georgia Tech kids hopping off a bus one year to race dragon boats with "no rhyme or reason" about what to do. Those days are gone.
What remains is a tradition that brings teams, volunteers, vendors, entertainers and spectators back year after year. It is a taste, a thrill, an experience they come back to. "The festival has endured because it has become the best hands-on cultural diversity event in the Southeast," Barth said. "No one can challenge that statement."
Hanratty said he is proud to reach the 25th-anniversary milestone and honored that many attend as a "rite of passage" to end the summer. "It's a great atmosphere out there that day with all of the people, the races, the entertainment, the food…lots of smiles all over the place. We give out hundreds of medals to the participants. We want everyone to feel like a winner when they leave."
Dragon Boat Festival Information
When: Sept. 10. Venue opens 6 a.m. Off-site parking/shuttles open 6:30 a.m. Blessing of boats by Buddhist monks 7 a.m. National Anthem 7:15 a.m. Racing begins 7:30 a.m. Opening Ceremony at noon. Finals begin 1:25 p.m. Awards ceremony 3:40 p.m.
Where: Grandstands/Tower, Lake Lanier Olympic Park, 3105 Clarks Bridge Rd., Gainesville – * the boat ramp at Clarks Bridge will be closed.
Cost: Admission is free. Check the website for pay parking and shuttle information. www.dragonboatatlanta.com
Cancer survivors set to paddle
By Jane Harrison
Marilou Frizzell was still enduring one of the most arduous journeys of her life when she undertook another. In 2015, while in the throes of breast cancer treatment, the Gainesville woman got in a boat with 19 other breast cancer survivors and learned how to race dragon boats.
"You can't match the camaraderie … it helped me through a scary time," Frizzell said of the sport that offers therapeutic benefits to breast cancer survivors. The interim president of Dragon Boat Atlanta Breast Cancer Awareness Team aims to lead them to their best performance in the 25th Atlanta Hong Kong Dragon Boat Festival Sept. 10. "Hong Kong is special because it's so diverse. Teams come from everywhere. There might be firefighters' teams, business teams … it's great team building."
The Dragon Boat Atlanta crew has practiced for weeks on Saturdays, weather permitting, at Lake Lanier Olympic Park. The seats are filled with both survivors and supporters. But in official competition, at least 16 must have sustained the disease. "It's a lot of fun, even if you've never been in a boat before," Frizzell said. She invited others to join them as they train for an international dragon boat festival for breast cancer survivors in New Zealand in April.
Dragon boating gained popularity among breast cancer survivors 20 years ago after a Canadian sports medicine doctor hypothesized that the upper body exercise would help prevent painful post-treatment swelling. The outdoor activity combined with the emotional bond of striving in unison with others boosts the endorphins. "Physical exercise is good for anything that ails you" body, mind, and spirit, Frizzell said.
Dave Frizzell, her husband, steers the 39-feet-boat while the women paddle. "It's very emotional for me seeing these ladies out there together, working so hard, winning in life, paddling forward and not backward. It's awesome for me," he said.
For information about practicing with or joining the team, contact Frizzell at dragonboatatl@gmail.com.