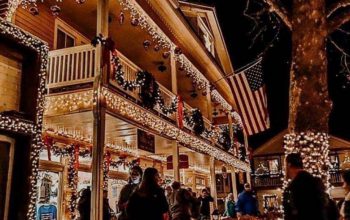 The pandemic can't steal Christmas, at least not in Dahlonega, where the spirit of the season shines in the city's traditional Old Fashioned Christmas. Holiday lights, carriage rides, a hometown parade, decorated trees, live nativity, and numerous festive activities hosted by local businesses greet visitors to the Georgia mountain town this month and into January.
"You can still feel the spirit of Christmas even in this crazy year," said "Christmas Cindy" Tomblin, 2020 Dahlonega Christmas Chairperson. The city's Downtown Development Authority/Main Street in coordination with the Dahlonega-Lumpkin County Chamber of Commerce and city and county officials decided to deck the halls and ring in the season, with a few changes.
"We've canceled so many festivals this year," Tomblin said a few days after local government officials gave Old Fashioned Christmas the go-ahead. "People are coming anyway," she added. Despite the cancellation of seasonal festivals, like Gold Rush in Dahlonega, Oktoberfest in Helen, and the Georgia Apple Festival in Ellijay, tourists have flocked to Georgia's small mountain towns. There, they might experience a sense of normalcy and escapism from stressful times.
And, in Dahlonega, Tomblin said, visitors can feel the Christmas season's wonder and joy, in a slightly different format. For instance, many restaurants and shops plan social distanced events in parking lots. Food trucks and restaurateurs can serve up "grab and go" specialties at a food court at the corner of West Main and Waters Street. The sparkle of downtown holiday lights expands for miles beyond the square. The parade route is longer.
Visitors come from as far away as New York to bask in the small-town charm during the holidays. "So many visit on drive-throughs" from southern states, Tomblin said. "They enjoy seeing the lights and the historic architecture" of the town where prospectors found gold in the late 1820s," she said.
Long time downtown business owners looked forward to continuing holiday traditions. "We have so many wonderful businesses, many in business for 25-30 years" that have found a way to host their annual festivities, Tomblin said. Visitors can warm up with a Christmas tea, buy gifts at a Candy Cane Market, mellow out with wine tastings, get a dose of local history in walking tours, and sip hot chocolate at an old-timey pajama party. Tomblin encourages families to book activities together in advance. Registration is recommended, as space is limited.
Tomblin noted that the event's "Santa Sponsor," the region's main healthcare provider, Northeast Georgia Medical System, is providing hand sanitizing stations and disposable masks.
Plan ahead for Old Fashioned Christmas activities
Visitors to Dahlonega's Old Fashioned Christmas are encouraged to make plans in advance to attend activities. Some require registration. Check calendar at www.dahlonegachristmas.com for updates.
Holiday Lights: Enjoy the beauty of Dahlonega's Christmas lights and decorations thru January 10th. Historic District lights are on dusk to 11 p.m.
Carriage Rides: Dahlonega Carriage & Horse Rides will be giving carriage tours of the historic district, departing from visitor center and other locations on the square, if multiple carriages are in town, through New Year's Eve. No rides on Christmas Day. See schedule at Dahlonega Carriage & Horse Rides Facebook page.
Old Fashioned Christmas Parade: Rescheduled to Saturday, Dec. 12, beginning at 4:30 p.m. Organizers will accept parade applications until a week before the event. Trophies will be awarded in four categories: cars/trucks, animals/walkers, golf carts, and floats. Parade entrants include marching bands, character groups (Christmas figures, elves, wisemen, shepherds, etc.), scouting groups, church groups and civic organizations. Food Court: Dec. 4-5 in former bank parking lot at corner of W. Main and Waters Street, NW.
Festival of Trees: Families enjoy taking holiday photos in front of trees decorated by local community members through Dec. 31 at Hancock Park, corner of North Park Street and Warwick Street.
Candy Cane Market: Treats and gifts provided by Dahlonega Woman's Club at Community House, 111 Park St.. 9 a.m.-5 p.m. Dec. 4, 5, 11, 12.
Live Nativity: Dahlonega United Methodist Church will be hosting a live nativity in front of the church at 107 South Park St., Dec. 12 & 19.
New Year's Eve Nugget Drop: First Night Dahlonega New Year's Celebration features live entertainment all evening (at indoor and outdoor locations around the Historic District) leading up to the midnight "nugget" drop. Purchase a $10 All Access Pass the evening of the event at Jeremiah's Place tent on the square. An early children's nugget drop will happen at 9 p.m. Proceeds support Jeremiah's Place, Lumpkin County's only transitional housing facility for the homeless.