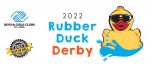 Have you adopted your chance to win great prizes, including an opportunity at $10,000? It's not too late to adopt a yellow rubber duck – or more – to be entered in the 24th Annual Rubber Duck Derby to benefit the Boys & Girls Clubs of Lanier.
Taking place on Saturday, May 14, from 11 a.m. to 3 p.m. at Lake Lanier Olympic Park, the event will see a record number of rubber ducks taking to the lake this year.
The grand prize for the duck that reaches the finish line first is $10,000 cash. Other prizes include a diamond solitaire pendant or ring valued at $5,000, a $1,000 family fun package at Main Event, a toolkit worth $850, a golf package with a two-night stay at Legacy Lodge at Lanier Islands, plus others.
"We'll be releasing 24,000 little yellow rubber ducks this year, the most ever," said Savannah Popham, marketing and communications director for the Boys & Girls Clubs of Lanier. "People will be able to adopt ducks at the event or add to their flock that day. We're expecting a good turnout and plenty of family fun."
In addition to the duck race at 2:30 p.m., the event features food trucks, a petting zoo, a bounce house and family activities. Acoustic guitarist/singer Jake Dupree will perform from 12:30 to 2:30 p.m.
"The Rubber Duck Derby is a fun and important event for our clubs," she said. "It helps raise funds to support our clubs' activities."
With five freestanding clubs and 20 school sites in Hall, Forsyth and Habersham counties, the organization serves more than 7,500 youth through club and community outreach programs. The organization is opening the Tommy & Chantal Bagwell Club in Forsyth in 2023.
The breakdown of youth served is 6-11, 87 percent; 12-14 10 percent; 15-18 3 percent. Approximately 35 percent of youth are of Hispanic and Latino descent; 32 are Caucasian; 23 percent are Black/African American; 9 percent are multi-racial; and 1 percent are of Asian background.
The club's mission focuses on academic success, healthy lifestyles  and character/citizenship. Programs throughout the school year include after-school and sports. Academics, particularly STEM and STEAM learning, are emphasized with students showing improvement in both math and reading levels.
Summer camps at various locations take place from late May until mid- to late July.
For more information about Boys & Girls Clubs of Lanier, visit www.boysgirlsclubs.com.
Photo: by Alan Hope