I hope you are all enjoying our spring. Weather-wise, it's been rather tame compared with other years. The La Nina pattern we are in is certainly helping mitigate our severe storm days by keeping our temperatures a little cooler than normal.
With La Nina beginning to fade into a more neutral pattern, we could see a little uptick in severe storms this month. In fact, one of the worst severe storm outbreaks in Georgia occurred two years ago, on April 12-13.
A powerful storm system brought a widespread severe weather outbreak across the South which began on Easter morning across the Ark/La/Tex region and spread eastward throughout the day. Powerful high levels of wind shear built across north Georgia by that Sunday night ahead of this powerful storm system.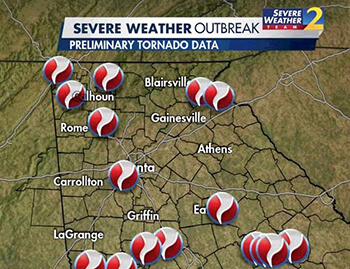 As the storms moved across Georgia from Sunday evening through Monday morning, numerous tornadoes touched down with widespread straight line wind damage that brought down many trees and powerlines. A total of 21 tornadoes had been confirmed across north Georgia, including two EF 3 tornadoes. Look at the accompanying map. You can see the incredible number of severe thunderstorm warnings and tornado warnings and then the damage reports on the right. We had some long hours tracking these in Severe Weather Center 2!
In 2011, on April the 27th, all of north Georgia was placed in a PDS, or Particularly Dangerous Situation. It's a very rare HIGH RISK for strong and long-track tornadoes. As it turned out, we had 148 tornadoes across the Southeast.  It was an all-time record, with several EF 5 tornadoes. Damage was extensive and there were several fatalities, none however in north Georgia. Across our area, we had 15 tornadoes. It was a day for the record books.
I am hopeful the "weather wars" will be calmer this April as the cooler than average temperature  forecast will prevail. From the data I have seen, we should expect temperatures to be near normal. Rainfall however, continues to be problematic. I can't seem to get a good handle on what to expect. I think we will continue to see stretches of rainy days followed by extended stretches of dry weather, as we saw last month.  Time will tell and until next time … enjoy the dogwoods!
Graphic: provided by Glenn Burns