This is the second installment of three stories featuring things to do while visiting our neighbors to the northwest, Cartersville, Ga.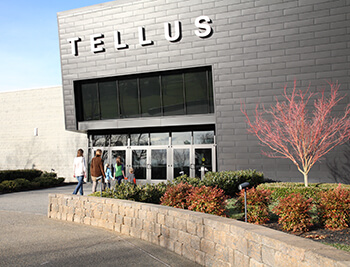 An observatory with a 20-inch telescope, an extensive collection of minerals and fossils, a tribute to motorized transportation and space exploration make Cartersville's Tellus Science Museum a must-visit.
Opened in 2009, the Smithsonian-affiliated museum attracts visitors from across the United States and internationally.
"Being affiliated with the Smithsonian carries a lot of weight with travelers, so they make it a point to stop in and see what we offer," said Shelly Redd, director of marketing for Tellus. "Additionally, we host a range of annual events – like RockFest and Heavy Metal in Motion – that attract enthusiasts and collectors."
"Our award-winning field trip programs and workshops are the foundation of the museum, though," she said. "It's our educational component that has families coming back regularly to learn more about specific topics."
Visitors to the 120,000-square-foot museum are greeted by an 80-foot-long Brontosaurus in the lobby. In the fossil gallery, a giant Tyrannosaurus Rex stands guard next to a saber-toothed cat, reptiles and mammals that inhabited the planet millions of years ago.
The Weinman Mineral Gallery showcases a broad collection of minerals, gems and gold and tell how the earth was formed. Fifty cases of artifacts include rare minerals, sparkling rocks and large specimens of crystal formations and geodes. Exploration of properties of minerals and information about how these specimens were formed compliment the displays.
Interactive exhibits encourage hands-on learning. The Gem Panning exhibit features a working water wheel and allows youngsters to pan for gems to take home. The Fossil Dig replicates an actual dig by providing brushes and other tools to unearth dinosaur bones.
Science in Motion explores the early days of flight through a replica of the Wright Flyer, complete with explanations of the Wright Brothers' adventures. Early automobiles, trains and planes provide the foundation for the journey into space, where replicas of the Apollo I capsule a Mercury capsule and Sputnik are displayed. Scale models recreate the NASA space program.
My Big Back Yard opens the doors to the mysteries of science, where children experience light and sound experiments, work with magnets and learn about weather.
"One of our more popular exhibits in My Big Back Yard is our Tree. Guests can walk inside a hollowed out life-size tree and look up to learn about different weather patterns like thunderstorms, snow and rain. The outside of the tree teaches about the different critters that might make a home in a tree," Redd said. "While we refer to My Big Back Yard as our 'children's interactive gallery,' it is certainly a gallery that is enjoyed by guests of all ages."
Special exhibitions change frequently to offer new perspectives and activities. Science Fiction, Science Fact continues through February 20 and reveals how scientists and inventors have been inspired by writers. Thomas Edison's Secret Lab in the Discovery Garden is open through May 8 with interactive STEM activities. Hidden Secrets: The Mysterious World of Caves through October 30 journeys below the surface of the earth through a cave reconstruction to find underground life.
The 120-seat Bentley Planetarium's hourly shows highlight the night sky depending on the season. Programs about the current night sky, exploration beyond the sun, super volcanoes and black holes take place throughout the day.
On the grounds, visit the Tellus Observatory's special events for explorations of the night sky through a 20-inch telescope perfect for viewing the Moon and planets in the solar system. A functional solar house built in 2015 by students from West Virginia University demonstrates the benefits of renewable energy through interactive components.
"While Tellus is best experienced with an in-person visit, you can also enjoy aspects of the museum virtually," she said. "Tellus offers virtual field trips, as well as a host of virtual lectures that can be found on the museum's Facebook page and YouTube channel."
For more information visit www.tellusmuseum.org or call (770) 606-5700.
February in-person events at Tellus
Registration is required.
Feb. 4, Junior Astronomy Workshop
Feb. 19, Build & Blast! Model Rocket Workshop
Feb. 25, SciFriNight Marvels of the Night Sky
To register or for more information, visit Tellusmuseum.org.
Photos: courtesy of Tellus Science Museum