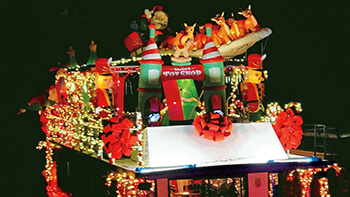 Coming off a year filled with uncertainty because of COVID-19, the Lake Lanier Association is not only heaving a sigh of relief, it is recognizing the work of its members, volunteers and community as 2021 draws to a close.
"This time last year, we were thrilled to see the end of 2020, and we were dreaming of what 2021 would bring," said Jennifer Flowers, executive director of the organization. "In 2021, we have been thrilled with the great amount of community and business support we've received as we've expanded our organization."
From removing several abandoned vessels, including "The Ghost" houseboat (see our related story), to setting a new record for Shore Sweep by the voluntary collection of more than 85 tons of trash and debris from the lake and its shorelines, the group is building an even larger presence in North Georgia and metro Atlanta area.
"Our volunteer engagement has expanded, as well as the number and amounts of donations and sponsorships," she said. "Our online workshops and partner Zoom meetings have also helped us keep our constituents, partners and members even more informed."
To join the Lake Lanier Association or to learn more about the organization, visit lakelanier.org.
Holiday houseboat cruises
The LLA has partnered with Lanier Boat Charter, headquartered at Aqualand Marina, for a members-only Holly Jolly Tour of Lakeside Lights Spectacular display at Margaritaville on December 8. It sold out in less than three hours.
Lanier Boat Charter will be offering 3-hour Holiday Cheer Sunset Cruises for the public throughout the holidays. For more information, visit lanierboatcharter.com or call 678 882-8062.