Last Thanksgiving may not have been the large traditional 'round the table gathering my family usually has, but the 2020 'round the campfire alternative Thanksgiving was certainly one of our most memorable. When the pandemic shut down the annual feast for 25-plus at my now 90-year-old mother's house near Marietta, three of us looked to the woods for a return to sanity and solace.
When my son, daughter-in-law, and I rolled down the gravel forest service road to Wildcat Creek Campground, we found what we were looking for. On that sunlit Thanksgiving morning, the vacant primitive campground near Clayton sparkled with the stark beauty of freshly fallen brown leaves beneath bare trees. Worn-wood picnic tables, charred fire rings, a basic privy, and flat ground for tents awaited our spread beside a clear rushing creek. We were the first scouts surveying the dozen or so campsites on a quiet semi-circle driveway at Campground #1. Why look more?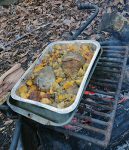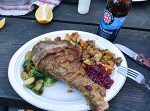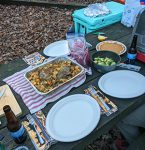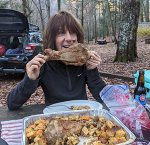 Prior to setting out, we dry-rubbed turkey legs with my son's "spice master" powder and pre-roasted them a bit. We added diced butternut squash and homemade cornbread dressing to the aluminum pan with the drumsticks. We sliced a bundle of Brussel sprouts for greenery, jellied some cranberries and ginger, and baked a pumpkin pie for dessert. That was it, all ready for the campfire.
With cook-time reduced to a fraction of the normal household holiday marathon, we had time for a hike before lighting a fire. The six-mile trek on nearby mountain trails – no one else in sight – kindled an appetite. Soon, burning wood crackled and smoke rose from our fire ring. The covered entre pan warmed on the iron grate. Brussel sprouts sizzled in a pot on a camp stove. Seasonal brews were popped open.
Earlier we had set up our tents and rolled out the sleeping bags for a chilly night. Darkness would fall early and temperatures would dip into the low 40s.
But before zipping up for the evening, the feast! I set the table with the finest Chinet paper plates and Native American-themed cloth napkins from home. We plated the hot drumsticks and sides and basked in thanksgiving for the joy of simplicity in the woods. Good conversation underneath the early evening sky enhanced the tasty meal. A card game or two by lantern-light ended the near perfect day. All that was missing was my daughter, on duty as a nurse at Grand Canyon National Park (What a gig!)
As I snuggled into my warm sleeping bag Thanksgiving night, I felt grateful that we realized the joy the outdoors gives freely to all who partake. Not everyone is aware of the blessings nature bestows.
This Thanksgiving, we may return to the folding tables in "the room" with a Franklin stove at my mother's, where sometimes it's difficult to carry on a meaningful conversation in the din of the crowd. Televised football games, or talk of them, add to the cacophony. I'll be thankful we could all be there again, but I'll be missing the woods.
Places to Give Thanks Outdoors
Those considering a camp-out Thanksgiving are advised to plan early, especially if looking for a campsite at a Georgia State Park. Last year many holiday celebrants discovered the lure of the great outdoors and may be back for more. Here are some suggestions for selecting a site:
Georgia State Parks: As of mid-October, the following state parks still had tent sites available. Some also had RV\sites. Book soon at www.gastateparks.org.
– Don Carter State Park on Lake Lanier
– Vogel State Park
– Black Rock Mountain State Park
– Tallulah Gorge State Park
River Forks Park in Hall County was still accepting Thanksgiving reservations in mid-October at www.hallcounty.org/facilities.
US Forest Service: Campsites in Chattahoochee-Oconee
National Forest are first-come only. Thanksgiving campers are advised to get there early. Campsites may fill up the long weekend after Thanksgiving, however early arrivals on Thanksgiving Day or the day before may find vacant campgrounds. Check www.fs.usda.gov to learn more about forest service campsites and road conditions. As of mid-October, Wildcat Creek Campground was closed due to road issues.
Photos: courtesy of Courtney Cooper