Annual lake cleanup breaks records for volunteers and trash
Shore Sweep for 2021 was a good news/good news event. Breaking records for the number of volunteers and the amount of trash, garbage and debris collected, the annual event continues to grow. The final tally was nearly 88 tons of trash.
"When we had more than 1,300 people sign up online in advance to help, we knew it would be a good year," said Bonny Putney, chair of the cleanup managed by the Lake Lanier Association. "Then, as the day came, the weather was outstanding and volunteers showed up from the early morning through early afternoon. It was a banner year."
She said that many people came by water on kayaks, jet skis, runabouts and pontoons. And others who had not registered showed up at the day-of sites to help.
"One of the keys this year was our eight advanced drop-off sites," said Jennifer Flowers, executive director of the 4,500-member non-profit group. "Opened two weeks before Shore Sweep day, the sites were packed full of trash, garbage, debris, dock floats and other items that people had collected from around the lake over the advanced period."
Putney said that this year, the association doubled the number of dumpsters at Gwinnett Park from two to four. They were filled to overflowing. Every location collected more trash than they have in the past.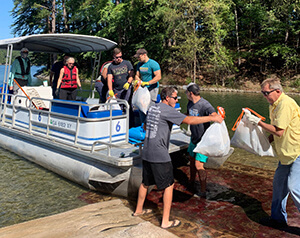 "People really turned out to help," she said. "It is so gratifying to see so many folks support the lake and work so hard to help us with our message of Clean Lake, Full Lake, safe Lake."
Watersports Center was this year's signature sponsor. Community partners included Keep Forsyth County Beautiful, Keep Dawson County Beautiful, Keep Hall County Beautiful and Gwinnett Department of Water Resources.
For more information about the association, visit lakelanier.org. Next year's Shore Sweep is scheduled for September 24, 2022.