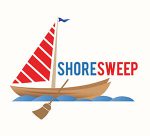 Officials of the Lake Lanier Association are going for a record-breaking Shore Sweep on the last Saturday of September this year.
"Last year, even with the pandemic, we set a new record for Shore Sweep, collecting 80 tons of trash, debris and garbage," said Bonny Putney, chair of the event that helps clean up the lake, shorelines and islands. "With our advance drop-off sites, as well as good turnouts for our day-of collections and the addition of some new locations, we fully anticipate being able to have a really big haul this year."
As of September 11, the association will open several advance, unmanned sites for trash drop off, including Shady Grove Park-Beach, Beaver Ruin, Gwinnett Park, Gaines Ferry Island, Beaver Island, Wahoo Island 2WC, Nix Bridge Island and Flat Creek Island. The GPS coordinates are listed on the association's website.
"We're asking people to put the trash and debris they collect way up past the waterline and secure it," Putney said. "These locations are only accessible by boat, encouraging people to use their boats to help us clean even more of the lake, including islands and shoreline areas that are hard to access by car or walking."
On the day of the event, the following sites will be open and manned from 8 a.m. until 1 p.m.: Dawson County: Toto Park, War Hill Park; Forsyth County: Bald Ridge Marina, Port Royale Marina, Shady Grove Campground Boat Ramp/Boat access only; Gwinnett County: Gwinnett Park; Hall County: Aqualand Marina, Balus Creek Boat Ramp, Lake Lanier Olympic Park, Don Carter State Park, Gainesville Marina, Lanier Islands/Land access only; Holly Park.
This year's signature sponsor is WaterSports Central. Community partners include Keep Forsyth County Beautiful, Keep Dawson County Beautiful, Keep Hall County Beautiful, Gwinnett County Water Resources and Chattahoochee Riverkeeper.
The association asks that participants register online at www.lakelanier.org. T-shirts will be given to volunteers on site on the Shore Sweep day, September 25. Those who participate on September 25 will receive a T-shirt on site.