Trying to grab all you can from the Summer of 2021? The final full month of summer around Lake Lanier is hot with opportunities to bask in the season's last embrace before days get short and breezes blow cold. If you think the lake is just for those who own a boat, think again. Here are some season finales that can create warm memories for boatless Lanier lovers: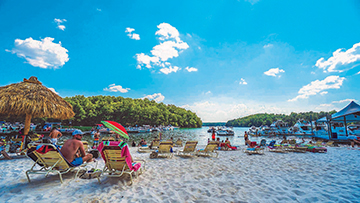 Head to the beach. More than 13-day use swimming areas await beach towels and lounges at Corps of Engineers parks and others jointly managed with area cities and counties. Large sandy expanses abut the water at Don Carter State Park on the north end, War Hill Park in Dawson County, River Forks near Gainesville, Mary Alice on the west side, and Buford Dam Park on the south end. Probably the largest and most visited beach, at Margaritaville at Lanier Islands, flanks the waterpark and waterside restaurants. Those looking for a smaller beach getaway might enjoy a more private setting at out-of-the-way beaches like Little Hall or Toto Creek.
The Corps of Engineers reminds beachgoers that there are no lifeguards on duty. When visiting, never swim alone and only swim in designated areas. Loaner life jackets are available at each site.
More information: LakesideNews.com.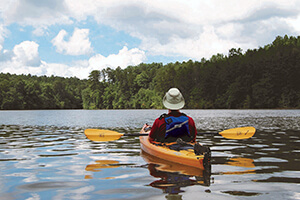 Grab a paddle. At least two venues on the lake's northern end can put a paddle in your hands and launch you out on a quiet cove. Expert paddlers from the Lanier Canoe & Kayak Club are eager to introduce lake-goers to the sport that brought Olympians to Lake Lanier 25 years ago. The club rents canoes, kayaks, stand-up paddleboards and pedal boats behind the Olympic boathouse and offers Learn to Kayak lessons and full moon paddle tours. See the schedule on Lakeside's Olympic pages.
At Don Carter State Park, rent a kayak, stand-up paddleboard or aquacycle to explore the upper reaches of the lake on the Chattahoochee River. Take a tour up Flat Creek (not the one in the city of Gainesville) to the lake's northernmost island, Flat Creek Island, to explore the forlorn chunk of trees and native plants inhabited only by wildlife.
Information: lckc.org, GAstateparks.org/DonCarter.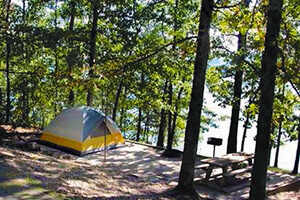 Pitch a tent, open a picnic basket. Waterside campsites and picnic tables offer scenic getaways for overnight outings, lunch by the lake, or a weenie roast at sunset. Most have convenient access to restrooms. The Corps reported a record number of camp reservations at Lanier parks last year. Similar numbers were expected this summer.
Info: Check Lakeside's camping pages at: LakesideNews.com/explore-lake-lanier/camping.
Party and dine by the water. Celebrate the end of summer with a lakeside dinner. Lakeside's dining guide offers a culinary tour of restaurants on the lake, many offering live music. Summer's final Food Truck Friday, Aug. 13, at Lake Lanier Olympic Park, rolls in something for every palate, plus a lively serenade.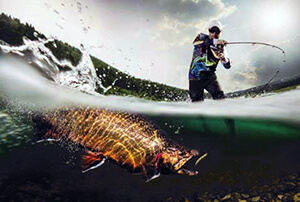 Catch a fish. You don't need a sleek bass boat to cast a line in Lake Lanier. Bank and dock anglers, especially in shady areas, might pull in some crappie. Wahoo Creek, Don Carter State Park fishing pier, and other easily accessible fishing holes harbor the great-tasting chunky fish. Here's a secret: take a short hike to Linwood Cove at Linwood Nature Preserve and try your luck there. Want to catch trout? The cold-water occupant dwells on the Chattahoochee River north of the lake and on the southern end, where the Georgia Department of Natural Resources stocks them near Buford Dam.
More info: Check out Lakeside's fishing pages at LakesideNews.com/explore-lake-lanier/fishing/.
Photo credits:
Beach: courtesy of Margaritaville
Kayaking: courtesy of Don Carter State Park
Tent and fishing: courtesy of Corps of Engineers