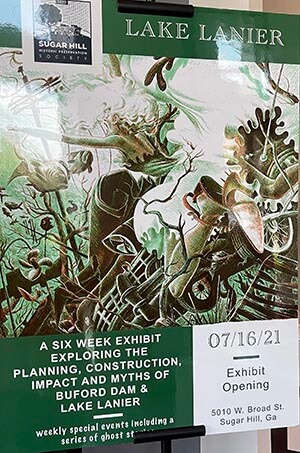 The current exhibit at the Sugar Hill History Museum dives deep into the myths and legends surrounding Lake Lanier.
Pulling from several books, including Robert David Coughlin's "A Storybook Site: The Early History of and Construction of Buford Dam," and Lisa Russell's "Underwater Ghost Towns of North Georgia," the exhibition continues through August 27.
"As a new museum, we have been seeking topics to explore that will appeal to our community," says Kathryn Baskin, chairman of the Sugar Hill Historic Preservation Society. "As our third quarterly presentation, Lake Lanier's past has been of tremendous interest. It has been an excellent way to let people in our area know that we are here."
When the Historical Society Board begin curating the exhibit, Baskin said she purchased one of Coughlin's books. "It proved invaluable and included so many stories," she said. "He was also very helpful in providing digital files that are a significant part of the displays."
Baskin's research turned up Russell's book as well, which tells of several Georgia communities that became "lost" with the construction of various lakes, including Allatoona, Hartwell and Lanier.
Presentations by Coughlin and Russell, as well as pop-up events revealing the stories of "Fish Head" and "Lady of the Lake," have drawn people to the museum, which is co-located with the Sugar Hill Downtown Art Gallery.
"This has been our most successful exhibition to date as people learn more about Lake Lanier," Baskin said. "We are also finding that Sugar Hill has other connections to the creation of Buford Dam and Lake Lanier."
For instance, a worker during construction was killed and is buried in the Sugar Hill Cemetery. Without giving anything else away, there will be stories about people who have died in the lake over its nearly 70-year history.
Upcoming programs include stories about the legend of Pete and Native American mounds at 6 p.m. Friday, Aug. 6; Oscarville and graves under the lake at 6 p.m. Friday, Aug. 13; and the legend of the "Lady of the Lake" at 6 p.m. Friday, Aug. 20.
The exhibition is on display through August 27.
For more information:  770-945-6929 or visit the website at CityofSugarHill.com/art-gallery-and-history-museum/.
Photos: courtesy Sugar Hill History Museum