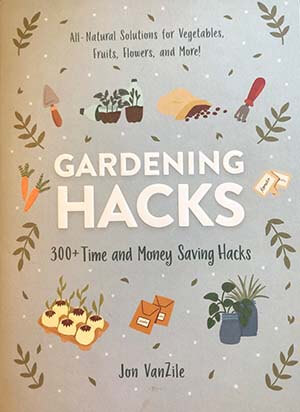 As a journalist who has been writing for Lakeside on Lanier for more than two decades, as well as penning articles for about a dozen other magazines across the Southeast, I'm frequently the recipient of great information, gardening books and tidbits from experts.
Recently, I've hit the jackpot for information that's tailor-made for our hot summers here in Northeast Georgia.
For starters, the folks at Simon & Schuster's Adams Media, mailed me two books: "How to Grow Your Own Food" by Angela S. Judd and "Gardening Hacks" by Jon VanZile. Both include great info for beginning and seasoned gardeners alike.
Judd's book focuses on growing vegetables, fruit and herbs in containers with everything from how to water and feed plants to proper harvesting.
VanZile's "Gardening Hacks" was an excellent education for those of us who think we're experts about gardening. From DIY projects as low-cost garden project alternatives to garden products
Here are some examples:
Make a tomato trellis from string hanging from a frame made of boards or pipes, especially good for indeterminate tomatoes that bear fruit in succession. Pinching side branches to focus more fruiting on the main stem will also yield bigger tomatoes.
Give your tomatoes a growth boost by watering once or twice a season with a mixture of 1/8-cup of Epsom salts in a gallon on water. You can also sparingly scatter Epsom salts around each plant before watering; do not overapply.
Want to grow orchids? Every week or so, soak your plants for about 10 minutes in a sink full of water with a bit of orchid fertilizer in it. Allow them to drain before placing them in an east-facing window, where they will most likely rebloom for you.
Soak your annuals, perennials and shrubs before transplanting. It may be messy, but it will give that plant a better head start in adjusting to its new home.
Watering hacks
Early summer's lower-than-average rainfall has taxed our gardens and landscapes; and occasional deluges don't provide sustained moisture.
Here are a few ideas to manage your landscape's water from Shades of Green founder Brandy Hall:
Mulch retains moisture and helps reduce weeds. Use natural materials, such as cypress mulch, being careful to leave several inches of space between the mulch and the plant's stems.
Right plants, right place means choosing shade-loving plants for shady areas and sun-loving plants, plus those that are drought-tolerant, for sunny spots.
Plant native varieties, such as muhly grass and echinacea.
If you can, wait until fall to install new shrubs and trees.
Train your soil to retain moisture by using low-growing ground covers.
Water plants and lawns deeply and less frequently to encourage deeper root systems.
Water in the mornings when there's less evaporation.
Gardening doesn't have to be complicated or expensive. The key is to do a little at a time, work in the mornings when it's cooler and pay attention to what's happening in your landscape.
Photo: by Pamela A. Keene