Providence Canyon State Park
Most human errors to the natural lands and environments produce irreparable scars on the land or waters forever, but in the case of Providence Canyon in southwest Georgia, it led to beauty!
Poor farming practices during the 1800s caused erosion of the coastal plain leaving massive gullies as deep as 150 feet into the earth's surface exhibiting clay and sands that explode in photographs with colors of pink, orange, red, white and numerous shades of purple.
Though settlers started arriving in the area prior to 1825, the real beginning of Stewart County happened after the Treaty of Indian Springs in 1825 when the Creek Indians were forced to cede all their lands east of the Chattahoochee River. The farmers who toiled to survive during those hard times mainly grew cotton and were not educated about soil conservation practices such as contour plowing, crop rotation and cover crops. They would be astounded if they could see today what they created with their antiquated farming methods.
Today, Providence Canyon State Outdoor Recreation Area is a 1,003-acre Georgia State Park. The park is considered to be one of the Seven Natural Wonders of Georgia and is often called "Georgia's Little Grand Canyon."
The park offers two picnic shelters, three pioneer campsites, six backcountry campsites, a museum and a visitor center with gift shop. Nearby attractions include Florence Marina State Park just nine miles away that has camping and cabins available, George T. Bagby State Park and Lodge with a golf course and Kolomoki Mounds State Park.
The canyon has in total about 10 miles of hiking trails with varying degrees of difficulty that are no problem for experienced hikers. The best way for most visitors to see the canyon is from the Rim Trail, but it is important to stay behind fences and off the fragile canyon edge.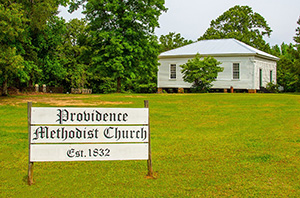 Hikers who explore the floor of the deepest canyons will usually find a thin layer of water along the trail, which is an indication of the water table below. Backpackers can stay overnight along the backcountry trail that winds through interesting tree formations. The rare Plumleaf Azalea that only grows in this region and blooms during July and August when most azaleas have lost their color makes the hottest part of the summer very unique and beautiful!
Don't attempt hiking in Providence Canyon State Park without proper footwear, plenty of bottled water, sunblock, a leash for your dog and some type of hiking stick for balance. Even hiking the more moderate trails can be very hot and tiring, and hiking to the canyon floor is a steep quarter-mile trek.
The park is just south of Columbus, GA., not far from the border with Alabama and very close to beautiful Lake Eufaula. The canyon is an awesome destination for travelers looking for an unequaled experience with magnificent and colorful views. It is a one-of-a-kind and highly prized natural area that just beckons to be explored!
Photos: by Bill Vanderford