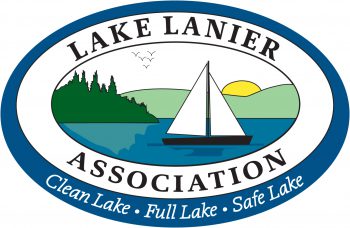 Two organizations that regularly monitor the water quality of Lake Lanier have voiced concern about algae blooms and excess nutrient presence in the lake. Both the Chattahoochee Riverkeeper and the Lake Lanier Association notified the media of their concerns through detailed news releases and newsletters.
"Data collected in 2020 shows that Lake Lanier continues to receive excess nutrient levels, indicating that improper stormwater management continues to plague this important stretch of the Chattahoochee River," wrote Julia Regeski, communications manager with the Chattahoochee Riverkeeper, in a news release. "The lake contained its highest recorded levels in 2019, but 2020 wasn't much better."
In its member newsletter, Lake Lanier Association reported findings of both E. coli and excess phosphorus in the lake.
"Trash, nutrients, sedimentation, harsh chemicals and E. coli all deteriorate Lanier's water quality," the newsletter said. "Blue-green algae blooms appeared in Lake Lanier for the first time ever in 2020. As one of the most dangerous forms of algae, it can produce toxins that can sicken or kill dogs, fish, mammals and birds, and in extreme cases may cause human illness.
One of the most common causes of pollution is stormwater runoff, particularly from fertilizers used by commercial farms and homeowners. Other sources of pollution include treated sewage discharges, failing septic systems and clogged sewer pipes from improper disposal of household fats, oils and grease.
In March the LLA conducted a webinar to educate homeowners about how they can more effectively take care of their lawns and landscapes without excess use of fertilizers. The video recording of the seminar is available on the organization's website.
"We urge our members to help us spread the word about what can be done to reduce these pollutants into Lake Lanier," said Jennifer Flowers, executive director of the Lake Lanier Association. "Water quality has always been a focus for the association and this year will be no different. We want to keep the lake and our drinking water safe and clean."
Both non-profits regularly take testing samples from the lake to monitor the possible presence of pollutants.
"We are working with several local governments, utilities and other stakeholders to address this problem, but individuals who live in the watershed have a critical role to play as well," said CRK Headwaters Director Dale Caldwell. "By each person doing their part related to this issue, cumulative and seemingly small impacts can multiply and lead to a positive impact on this very valuable water source."
For information about these two organizations and their initiatives, or to join, visit chattahoochee.org or lakelanier.org.