Any visit to the old town of Rutledge and Hard Labor Creek State Park is a memorable experience, but one particular sojourn to this gorgeous section of Georgia's Piedmont was especially meaningful. It involved a day of fishing and camaraderie with a group of underprivileged children from one of the government housing projects near Atlanta.
A youth counselor had called me to inquire about the possibility of putting together an outing that could introduce some youngsters from the tough, inner-city streets to the outdoors. Since it was the end of summer, fishing at Lake Lanier was slow. Boat traffic was still terrific. Then I remembered the beautiful natural setting and two fishing lakes at Hard Labor Creek State Park. So, we picked a day, collected enough fishing gear together for each child, packed our boats with food and drinks and took the youngsters south to the park near Rutledge.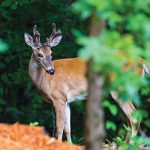 Upon entering the park that morning, we experienced the first of many highlights. Several whitetail deer were eating grass along the edge of the road, and for many of the children, it was the first time they had ever seen a deer. It was a genuine thrill to watch their eyes melt into excited fascination. And that was just the beginning!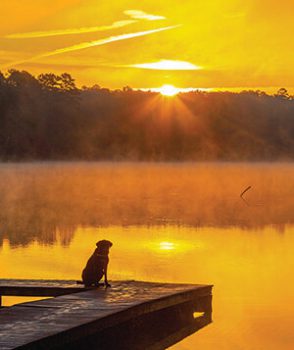 Through countless smiles, shrieks of happiness and constant questions, we must have baited a thousand hooks and released several hundred bream before the day was over. Despite cut fingers and wet clothes, few moments in my life have proved as rewarding as the transformation seen in those young people in such a short period of time. I know that we didn't change their lives, but hopefully, it opened a window of hope for them. It will always be a special memory for me.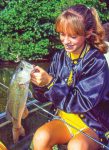 Though bass boats with big engines are not allowed on the lakes today, the waters are still beautiful, tranquil, and full of fish. The larger of the two lakes is 275 acre Lake Rutledge, which has rental cottages, group picnic shelters, a swimming beach and boating facilities along its shoreline. The smaller Lake Brantley features a campground with electrical and water hook-ups.
The star attraction of the 5,805-acre state park is The Creek, which is one of the finest, most challenging, and best maintained public golf courses in Georgia. This 18-hole, 6,682 yard, par 72 championship course is demanding to even the best golfers. The course is surrounded by woodlands with several picturesque ponds and has the meandering Hard Labor Creek, plenty of wildlife, an old mill wheel and a gorgeous waterfall on one hole.
Hard Labor Creek State Park was named for the stream by the same name that cuts through the park. It is believed the name was applied by either slaves who tilled the fields in summer or Indians who found the stream difficult to ford. Visitors, however, won't find much hard labor. Instead, the park is filled with unique activities for everyone and is near several other worthwhile attractions.
On the lakes, one can rent pedal boats, canoes, kayaks or fishing boats. A horse trail is available for those who bring a horse. Bike rentals are offered, or one might choose to hike on the two and one-half miles of trails provided for that endeavor.
Other than eating at The Creek Golf Course, one can drive a few miles to the tiny village of Rutledge, Georgia to enjoy the best deli sandwiches in the area at the Caboose! Hard Labor Creek State Park has many picturesque habitats woven into the historic landscape transformed by the Civilian Conservation Corps (CCC) that offer solace and solitude for recreation and reflection. It's a great option for a nearby "staycation" during the current pandemic.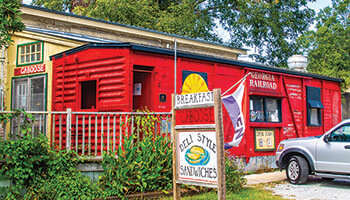 For more information, reservations or directions, call 706 557-3001.
Photos by Bill Vanderford