Though I was raised entirely in the South, I have traveled the world for so many years that the true warmth and friendliness of my early roots had faded into distant memory until I recently visited the Grand Hotel Golf Resort and Spa on Mobile Bay in Alabama (www.grand1847.com). Southern hospitality is a well-worn set term that has enough definitions to fill a lengthy novel, but to those of us who lived it … it's very simple. It always starts with a warm smile that is the same for everyone you meet with no pre-judgment. We keep family and friends close, open doors for ladies and children, enjoy great food and drink and do everything at a slower pace.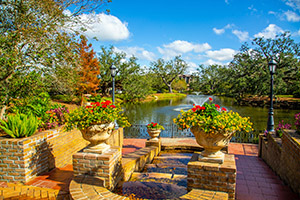 Even before I got out of my car upon arriving at the Grand Hotel Golf Resort and Spa at Point Clear, Alabama, a smiling gentleman named George immediately revived that warm feeling of southern hospitality!  Although later when I met with my host and hotel marketing director, Kevin Hellmich, he told me that here it's called "Alabama Hospitality!"
Like most first time visitors to the "Grand," I went for a stroll among the huge live oak trees that give shade to the beautiful lagoon in the middle of the protected compound. Then I ventured out to the big water to enjoy a long walk along the edge of the picturesque and expansive Mobile Bay. One can feel the history of this magical place that has survived wars and hurricanes since its beginning in 1847 … especially every  afternoon when the local historian gives a  short talk complete with flag and drumbeat before firing the famous canon across the bay.
Many wounded Southern soldiers stayed here during the Civil War when it served as a hospital. The hotel was used as a training base during World War II for U.S. Army and Air Force troops to practice amphibious landings.
Upon entering the spacious and meticulously appointed lobby through a massive double door, one can see a double-sided fireplace and many comfortable chairs. However, seating is not important because anyone entering is met with a smile of Alabama Hospitality by the front desk staff.
My guest room was in Building 3 which was a short drive along the backside of the lagoon to an inside parking spot and an elevator to the 4th floor. The room was well lighted and comfy including a balcony with a fabulous view of the hotel grounds, lagoon and Mobile Bay. Each room has a heavenly bed, chair, ottoman, desk for working, modern coffee maker and mini-refrigerator. The bathroom is large with lighted make-up mirror, a hair dryer. The best part is the roomy shower with instant warm water!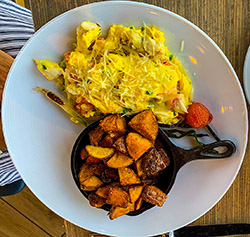 Breakfast the next morning while gazing at Mobile Bay through the huge glass windows of the Grand Hall Restaurant inside the hotel brought other memorable moments. The meal was unique with ingredients that were locally caught or produced and woven into a mouth watering tapestry: The Grand Hotel Lump Crab Scramble is one of Alabama's 100 Dishes to Try before You Die! However, it was the atmosphere and service created by a wonderful southern lady and restaurant manager, Aniese Harris, that made the experience unforgettable!
After the great meal, I drove across the street to enjoy the first of two challenging Robert Trent Jones Golf Trail championship golf courses at the Lakewood Club which is part of the Grand Hotel Resort. The Dogwood Course is a picturesque and meticulously maintained 7,104 yard, 18-hole, 72-par course that wanders through pines, magnolias and ancient oaks. It is also the home to a great number of rare brown-colored fox squirrels and some of the fastest greens west of the Masters! What an adrenaline rush for any golfer or outdoor enthusiast!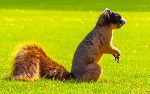 The evening was brought to a scrumptious crescendo after a magnificent sunset across Mobile Bay from the Grand's signature restaurant … Southern Roots! The service was perfect and the beef tenderloin, crab cake and gumbo sent my taste buds into orbit!
The next morning opened with another fabulous breakfast at the Grand Hall with Ms. Harris and her hospitable staff followed by golf at Azalea, which is the second course at the Lakewood Club. This 72-par course is 7,202 yards of rolling fairways and impeccably groomed, extremely fast greens that is somewhat different than Dogwood, but just as challenging and enjoyable!

After a few days of breathtaking vistas, mouthwatering cuisine, historical education, challenging golf and plenty of Alabama Hospitality at the Grand Hotel Golf Resort and Spa, the thought of returning to Atlanta was not my first choice. Nevertheless, like so many before me, another journey to this unforgettable destination will be high on my bucket list!
Photos: Bill Vanderford
Click for more information about the Grand Hotel Golf Resort and Spa