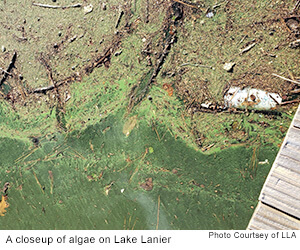 Heavy rains from remnants of Hurricane Delta, combined with storm-water runoff and excess debris in Lake Lanier have caused algae blooms in multiple locations. The Lake Lanier Association was notified and initiated testing of the green patch along the shoreline in Flat Creek.
"This growth is likely due to the amount of nutrients washed into the lake from the intense storms,"  said Jennifer Flowers, executive director of the group. "Additionally, the sunlight and the heavy debris layer impeding water movement have likely made ideal circumstances for growth."
In early November, the reported algae blooms were contained in isolated areas of the lake. Samples taken from the Flat Creek bloom were sent to the University of Georgia's labs to be tested.
Certain types of algae in Lanier fluctuate with conditions. Algae is part of a healthy aquatic food chain, and many types are harmless. However, some types can produce dangerous toxins.
"The test showed that it was cyanobacteria, commonly known as blue-green algae that do produce harmful toxins, although this particular incident was below the level of toxicity for humans," Flowers said. "It still may be harmful to pets. We're asking people to keep a lookout for similar algae blooms over the coming months, although as the weather gets colder it will go away."
Flowers said that there were nine sites that reported blue-green algae blooms in the past few weeks. Until now there have been no documented instances of this type of algae blooms in the lake.
"There's no cause for alarm; we want the public to be aware of what's going on around the lake and be on the lookout for anything similar. Pets and some people can be more sensitive to algae blooms and it's wise to protect them by not allowing them in the lake when there are visible blue-green algae present."
Each month, the association's Adopt-a-Lake volunteer initiative tests for chlorophyll, a pigment in algae, as an indicator of what may be growing in the lake.
"Blue-green algae blooms are very apparent and appear bright green on the water," she said. "They look like spilled paint and typically occur on the shoreline, in coves and inlets."
They are caused by excess phosphorus in the water, which can come from storm-water runoff that washes fertilizers into the lake.
The association issued a warning for people and their pets. "Anytime you or your furry friends go into the lake, make sure that the water in the area is free of discoloration, abundant algae growth debris build-up or any odors. By way of exercising caution, if any of these conditions are present, do not go into the water."