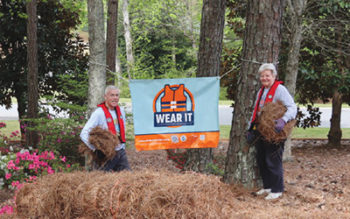 Boaters of all kinds around the country will be commemorating National Safe Boating Week with various virtual and interactive activities.
In Atlanta, America's Boating Club Atlanta members have already begun promoting "Wear Your Life Jacket to Work Day," which is slated to formally take place on Friday, May 15. It's a precursor to the National Safe Boating Week from May 16-22.
"America's Boating Club Atlanta has been planning activities for several months, but when the shelter-at-home orders were issued, we looked for other ways to draw attention to boating safety," said Dave Fuller, commander of ABCA, the 250-member boating organization that serves Lake Lanier, Allatoona Lake and north Georgia. "Our members are very committed to boating safety, and as part of our membership we all take the Basic Boating Safety Class."
Members have vowed to wear their life jackets to work, even if they're working from home or running essential errands. "It's a way to start the conversation about the importance of boating safety," Fuller said. "And we're encouraging our own members to take photos of themselves wearing life jackets to promote boating and water safety, and to post them to our Facebook page."
Sponsored by the National Safe Boating Council, National Safe Boating Week has been celebrated for decades. Other national and regional organizations including the US Coast Guard, US Coast Guard Auxiliary, Georgia Department of Natural Resources and the Army Corps of Engineers, support the program.
"We believe wearing a life jacket is the simplest way to ensure the safety of you and your family while enjoying a day on the water," said Yvonne Pentz, communications director of the National Safe Boating Council. "Our Safe Boating Campaign is a year-long effort focused on spreading the message of boating safety and the importance of always wearing a life jacket each time a boater is on the water, no matter what the activity may be."
For more information about, to join or enroll in online boating education classes from America's Boating Club Atlanta, visit www.atlantasboatingclub.com. To learn more about National Safe Boating Week, the National Safe Boating Council, and its year-long Safe Boating Campaign, visit safeboatingcampaign.com.