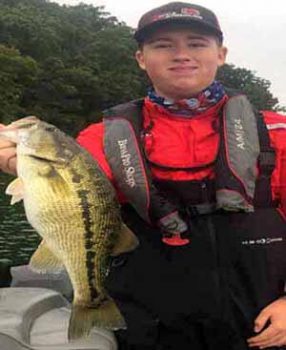 Phil Johnson grew up fishing on Lake Lanier. Today he's a professional angler and is eager to help the next generation connect with the benefits of fishing. He's found out that more and more young people are learning to fish, some to participate on a high school fishing team, others to earn college scholarships.
"High school fishing is becoming more and more popular," said Johnson, who grew up in Alpharetta and now lives in Cumming. "Yet so many young people are missing a key ingredient: the opportunity to network with professionals and build mentor relationships."
That's why Johnson organized the Saturday, September 10, High School Bass Fishing Seminar. It takes place at South Forsyth High School in Cumming from 8:30 a.m. to 1:30 p.m. Walk-ins are welcome, as long as the students are age 18 and younger; no fishing experience is necessary.
"We've offered the 5-hour seminar at no charge because these youngsters shouldn't have to pay for learning the basics and connecting with seasoned anglers," he said. "The presenters we've chosen are very willing to share their knowledge and experience to help create the professionals of the next generation."
As a youngster, Johnson spent summers fishing with his Uncle Latham Atkinson in Cordele. He credits him as being an early mentor. For the past 20 years, Johnson has fished the Southeastern tournament circuit. He spent his professional career in the spinal medical device field.
Speakers will spend networking time during the event. These top anglers will also be giving short presentations about the following topics:
Jim "Bass Whisperer" Farmer, Spybait and Topwater baits
Jimmy Sanders, The Art of the Jerkshad, a minnow-type bait
L.J. "Jedi" Harmon, Target with the Dropshot
Ken Sturdivant, Everything Electronics
Phil Johnson, Tournament Prep and Etiquette
Robert Williams, Tactics of the Underspin
Chuck Trasher, The Art of Crankbaits, Swimbaits and Lure Painting.
"I hope to make this an annual event," he said. "It's our way as professionals to give back to the community and support youth fishing at a grass-roots level."
For more information, call him at 770 366-8845 or email him at pjohnson15@hotmail.com.
Photo: courtesy Phil Johnson