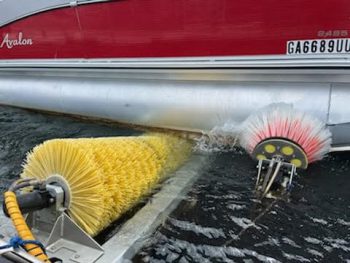 Keeping boat bottoms clean, even in the fresh water of Lake Lanier, can help save on fuel costs. That's why Drive-in Boatwash Lake Lanier opened in May at Port Royale.
"Our machine can wash boat hulls up to 53 feet, including pontoons and tritoons," said Kevin Siemens, partner in the company that has just opened its first location in North Georgia. "By keeping their boat hulls clean, our customers not only look great on the water but also save money on fuel costs and costly chemical etching that can come from fouling stains."
The business is located at the end of the Port Royale restaurant courtesy docks and features giant brush rollers that clean the hull and partway up the freeboard. Depending on the size of the boat, the process can take between 15 and 20 minutes.
"Eventually, if a boat is washed regularly, antifouling paint will not be required, and that's good news for the environment," Siemens said. "In lake conditions, we recommend that our customers wash their boat hulls about every six weeks. The process is environmentally friendly because no cleaning agents or chemicals are used. An underwater basin catches all debris."
Single-wash and membership options are available; pricing is based on boat length. Customers can learn more or make appointments through DIBWLakeLanier.square or by calling 678-948-5250.