Somehow, most of north Georgia managed to escape the onslaught of severe storms, tornadoes, and large hail last month.  Middle and South Georgia is where the hammer came down. Violent storms producing multiple tornadoes did incredible damage. An EF 3 with 160 mile per hour winds tore a path of destruction through Bonaire in Houston County. A woman in her home was severely injured and died the next day. An EF 4 tornado with winds between 160 to 200 mph slammed Black Creek in Bryan County killing a woman in her home instantly. Our reporters were on the scenes and the video of the damage was astounding. I don't know how more people did not get hurt or killed.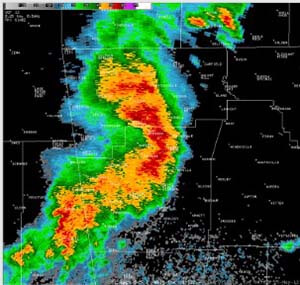 The weather system that caused all this mayhem is quite common in Georgia during the spring and summer months. Have you ever heard of an MCS? The Mesoscale Convective System is a collection of thunderstorms that act as a system. An MCS can spread across an entire state and last more than 12 hours, as was the case in Georgia on April 4th. On radar one of these monsters might appear as a solid line, a broken line, or a cluster of cells. The accompanying radar image shows the line "bowing outward." That is a signal of a powerful straight-line wind. In this image the winds were gusting to 70 mph.
So how does an MCS form? MCSs are formed from a process known as upscale growth. This is basically when the rain cooled air from several storms join forces to create a larger cold pool. This cold pool spreads out along the ground and acts as a mini cold front, triggering new storms as it moves along. As daytime heating gets under way, scattered storms form. Each of them has an updraft and accompanying downdraft where rain cooled air rushes toward the ground. When these downdrafts hit the ground, they spread out. Given the close proximity of these storms, the downdrafts soon begin to join forces and they gradually form a larger pool of cold air known as "the cold pool." This cold pool begins to move out across the surface. At the leading edge of the cold pool, new storms form as warm, unstable air is forced to rise. The MCS is now a machine. Heavy rain will move over the same areas over and over again, increasing the flooding threat. Large hail will often accompany the storms along with straight line winds of 60-80 mph.
It's now MCS season so keep an eye on the radar before you head out for that family day on the lake.   The new 90-day outlook showing plenty of heat energy available for these storms with above average temperature expected. At this time there are no real clear cut signals concerning rainfall. We have equal chances, with this outlook, of above or below normal rainfall.
Photo: provided by Glenn Burns