With just two students when it began in August 2019, the Marine Engine Technology program at Lanier Technical College has taken off like a shot. This past fall, enrollment reached 22 students all hoping to launch their careers in the marine business. And what better place to train than Northeast Georgia, where over the past decade, the shortage of qualified marine mechanics has been dire?
"I remember trying to find someone to work on my boat several years ago and was hard-pressed," said David Erickson, board member of the UYC Maritime Foundation, a major supporter of the program. "I looked around and discovered that there was a severe lack of mechanics, and the ones who had shops were usually very backed up with service requests."
That's when Erickson, and others with the same vision ­– including members of the Marine Trade Association of Metro Atlanta – realized there was a golden opportunity at Lanier Technical College in Gainesville. The marine engine technology program at North Georgia Technical College had closed several years ago, leaving a void in filling the pipeline for new marine engine techs.
At the 2018 Atlanta Boat Show, officials from Lanier Tech set up a booth to introduce the new program to the marine community and stakeholders. In August 2019, the college enrolled the first students into the Marine Technology program.
The college hired Hans Metz, long-time mechanic and head of the service department at Gainesville Marina, to teach the diploma program. Since that time, Metz has trained nearly 100 students.
The college operates on the tri-mester system and the Marine Engine Technology program admits students in the fall and winter semesters.
"The program can be completed in one year, three semesters, but some students take 16 months, depending on their other commitments, work and family," Metz said. "They have to also complete their core requirements in addition to the eight classes in the Marine Tech curriculum."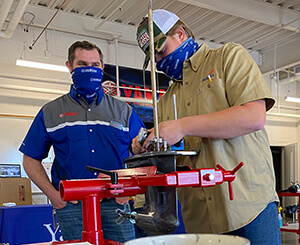 Students are at the college from 9 a.m. to 2 p.m. Mondays through Thursdays. They take core classes and participate in intense hands-on training. Eighty percent of the work is hands-on.
"We have 30 marine engines in the lab that they can work on, and many days, even after our school hours are over, I have to go in and tell them to go home," he said. "I often find them staying in the lab until 5 or after. They are just so eager to learn and so dedicated."
The program encompasses outboard and inboard mechanics, including a couple of stern-drive engines.
"The college has been really supportive of our program, as have several of the manufacturers, including Yamaha and Mercury, who are sponsors."
In 2020, the first full year of the program, Metz entered his students in the SkillsUSA competition for technical and career education students across the country. It took place virtually.
"We participated in the competition for state in our lab and competed against five other schools," Metz said. "As state winners, we participated in the nationals virtually as well against 20 states. We won the national competition as well, which is incredible and unprecedented for a first-year program."
Hans said that his students are like family. "Each class has really bonded with each other, getting together outside of class with their own families, helping each other with problem-solving as they train and sharing information about job leads and opportunities," he said. "And many of our graduates continue to stop by the lab to visit and encourage our new trainees."
The majority of students are from Georgia, but in this most recent class, enrollees from Tennessee and the Carolinas have joined the program. All of the graduates have been able to find employment in Georgia.
"There has been such a demand for good marine mechanics that we are able to find employment fairly easily," he said. He also keeps up with former students, how they're doing in their jobs.
Metz works with an advisory board of marine-business people from local dealers to national reps for major manufacturers to ensure that the program is offering up the latest in technical training. He is also supported by the Marine Trade Association of Metro Atlanta and the National Marine Manufacturers Association.
The UYC Maritime Foundation provides scholarships for students who are Georgia residents as part of its mission to support marine education.
Local dealers frequently offer part-time jobs to students to augment their classroom and lab experience.
"The support that we have received from all levels – the college, the local and national industry, the students, the public and elected officials – has been so inspiring," he said. "We couldn't have this program without all this help and encouragement. And I am truly blessed to be able to work with these students and bring along the next generation of marine mechanics."