Weekend getaway to Hartwell: Boating club gets back on the water
Those of us who regularly boat on Lake Lanier are pretty loyal, but sometimes it's a treat to venture away from home. Twenty-three members and friends of America's Boating Club Atlanta, formerly known as the Atlanta Sail and Power Squadron, made some discoveries in early June with a trip to Lake Hartwell and Tugaloo State Park.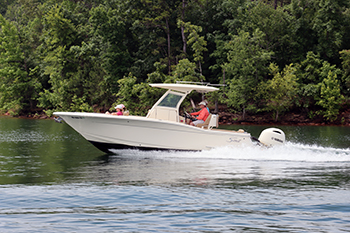 Just an hour or so northeast of Lanier up I-85, Hartwell is very different from Lanier: larger, younger and not as developed with residences. With a surface area of 56,000 acres, 962 miles of shoreline and a full-pool level of 660 mean feet above sea level, it's part of the South Atlantic Division of the US Army Corps of Engineers. The lake was created in 1962 after seven years to build Hartwell Dam that blocked the Savannah River seven miles south of where the Seneca and Tugaloo rivers merge.
For the most part, we boated in a smaller part of the lake, on the Tugaloo River portion that eventually joins the Seneca River. The two become the Savannah River below Hartwell Dam.
The plan included renting five 2-bedroom cabins at the state park, boating and exploring the lake, and socializing. More than 20 people signed up to attend this first getaway of the season.
Several of us towed our boats to Hartwell. A handful of us arrived on Thursday, for a Friday boating trip to visit Longnose Falls, a waterfall hidden in a cove about 20 miles away from the park. The journey involved a power cruise to Longnose Creek, then a half-mile paddle to see the beautiful cascading waterfall on the South Carolina side of the lake. The extra work was so worth it for the cooler temperatures and the relaxing time to play in the falls' pool.
By Friday evening the rest of the group arrived, just in time for a low-country boil. The evening lakeside dinner was another chance to relax and socialize with each other, and a chance to catch up from 14 months of quarantine.
Whenever members of the club get together, three things are certain: We'll be boating or talking about it; we'll be socializing; and there will be plenty – and I mean plenty – of food.
In addition to our low-country boil on Friday night, the group enjoyed custom-made omelets, bacon, hash browns and all the trimmings on Saturday morning. Rick Fulgham cooked for more than 20 people who certainly started their day fortified with a good breakfast. It's become a tradition for Rick to cook breakfast at least one day of a trip with the club.
A full day on the lake in members' boats included a raft-up for lunch and an hour or so of swimming. The six-hour journey included exploring Hartwell where the traffic, even on a warm Saturday, was minimal compared to a Saturday on Lanier.
People were out on cruisers, jet skis, fishing boats, but very few go-fast craft. A local sailing club hosted races.
Saturday evening was potluck. Main dishes included a baked ham, beef tenderloin and pork tenderloin. Members added to the fare with macaroni and cheese, salads, baked beans, appetizers and desserts. No one went back to their cabins hungry.
America's Boating Club Atlanta's membership is open to anyone interested in boating, socializing with other folks who like the water, and people who want to further their boating knowledge through classes that cover everything from basic boating safety to coastal navigation and how to plan a cruise.
You don't have to own a boat to be a member. The group has multiple on-the-water events throughout the year, including raft-ups on Lanier, a fall leaf cruise and will soon resume on-the-water hands-on boat familiarization. Getaway trips are being planned as well for members.
If you're interested, visit AmericasBoatingClubAtlanta.org, where you can learn about the group's activities and classes. Or leave a message at 770-734-6412 for a return phone call.