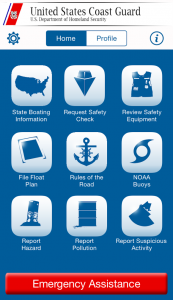 The news cycle is filled with incidents regarding recreational boating. But, what happens if there is an emergency and you need help? Does your family, friends, or associates know your location with your intended routes and plans while underway on the water? Without time-sensitive knowledge about your location and the nature of your situation, you are basically out of reach. The practice of filing a conventional voyage plan on paper has long since vanished. The U.S. Coast Guard boating safety App, www.uscgboating.org/mobile, is free and provides a user-friendly platform for operators to perform various essential tasks.
When you download the app on your device, this is the main menu you will see. Look at the left side, and you will find a button; File a Float Plan.
The benefit of this technology is that it is a ready source of information and communication to assist you in boating safely. In addition, the program is chock full of valuable elements to the mariner, trip planning, your vessel's profile, federal and state regulations, including U.S. Coast Guard Rules of the Road, and other functions to make your trip safer and much more enjoyable.
It even has an emergency assistance button to press in case you need help, which contacts a Coast Guard Rescue Center that alerts nearby vessels or aircraft to assist.
Other technologies in the marketplace can pinpoint your exact location, record your movements, store in the cloud, and provide real-time voyage awareness to your plan.
Contact me to discover more on these innovations, how to file a float plan using the latest in tech, or visit FloatPlanCentral.org.