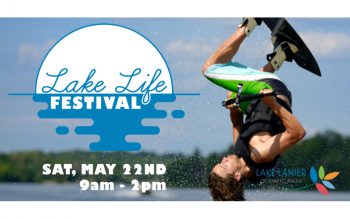 Been just dipping your toes in Lake Lanier? Experience all the lake has to offer May 22 at the inaugural Lake Life Festival at Lake Lanier Olympic Park. "We wanted to put something together for the community that's experiential and reintroduces everyone to all the opportunities the lake provides," said organizer Eric Larsen.
The resulting event will soar above the water with fly board acrobats, get gnarly with wakeboarders, and even elicit some excited yelps. Larsen expects that with all the diverse activities, lake-area dwellers might feel like tourists in their own town.
The LLOP special events manager listed a boatload of vendors and demonstrations. Title sponsor Pull Watersports is expected to show off feats of balance and bravery with surfers hanging ten behind wake boats. Lake Lanier Flyboard will propel athletes above the water. The Dixie Dock Dogs will get more than their paws wet with tricks that entertain and amaze.
Fest-goers can board fishing boats where captains will show kids how to cast and take families on cruises. Visitors can hop in a canoe, kayak or stand-up paddleboard, courtesy Lanier Canoe & Kayak Club. Elachee Nature Science Center naturalists will enlighten folks about the lake's fish, wildlife and aquatic plants.
Boat service businesses will offer tips on how to get boats ready for a fun and worry-free season. Northeast Georgia Health System will host water safety programs.
As of mid-April, Larsen was still finalizing what he described as an "opportunity to rediscover everything you can do on the water." He said that although most activities are land-based, attendees who want to get immersed or splashed might want to wear water shoes and clothing they don't mind getting wet.
Food trucks and a beer and wine tent will also line up on the LLOP grandstand plaza.
Gainesville tourism director and LLOP Executive Director Robyn Lynch touted the former Olympic venue as "the city's premier access to Lake Lanier for our community."
"The Lake Life Festival will give local businesses, non-profits and clubs that focus on lake life an opportunity to showcase their particular specialty to those that embrace lake life," she said. "Our goal is to host 1,000 visitors throughout the day, however with the popularity of outdoor/lake recreation, I would not be surprised if we see a much larger crowd." Larsen said the festival could grow to a two-day event in the future.
Lake Life Festival celebrates Lanier
When: 9 a.m.-2 p.m. May 22.
Where: Tower Side, Lake Lanier Olympic Park, 3105 Clarks Bridge Rd., Gainesville
What: On-the-water demonstrations, exhibits, tours, safety and nature programs, food trucks, beverage tent
Admission: Free
Info: LakeLanierOlympicVenue.org.