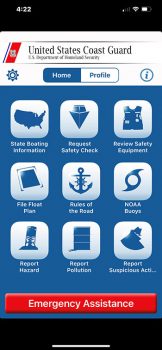 Recent statistics have shown a 30 percent increase in incidents involving boating safety. This surge in accidents is partially due to the pandemic as it has led to an increase in recreational boating.
Here's a tip that might help boaters deal with safety concerns on the water: The U.S. Coast Guard boating safety app.
The free app provides a user-friendly platform for operators to perform various essential tasks. You can go to your search engine and download the Coast Guard app.
Once downloaded and installed, the home screen shows nine icons that offer topics for exploration, ranging from state boating information to reporting suspicious activity.
The Coast Guard App includes valuable elements to the mariner, such as voyage planning, your vessel's profile, necessary regulations, including Rules of the Road, and other functions to make your trip safer and more enjoyable. It also provides a conduit for information gathering and dissemination to the proper authorities to help maintain aids to navigation and other critical aspects of the water environment. It even has an emergency assistance button you can press, which automatically contacts a Coast Guard Rescue Center that, in turn, alerts nearby authorities.
This column is the first in a series that will explore this innovative app. If you have questions about the technology and how it works, please contact me to discover more.