Finding a perfect family destination during a national pandemic has proven to be a major undertaking, but I got lucky and discovered a place less than three hours from Atlanta that has something for every family member – especially those who play golf! The Auburn Marriott Opelika Resort & Spa at Grand National (MarriottGrandNational.com) offers immediate Southern hospitality and a warm ambiance before you can park your car. Just the scenic drive into this picturesque complex will keep your head on a swivel with the beautiful forest and wild animals that pop out from time to time.
A huge number of visitors come here for the magnificent golfing opportunities at the Robert Trent Jones Grand National which is a part of the RTJ Golf Trail. Three interesting, challenging and unforgettable … but very different courses are available through the same clubhouse. Built around 600-acre Lake Sougahatchee, 32 of the 54 holes follow alongside the richly forested shoreline. Both the Links Course and the Lake Course were in the top 10 of Golf Digest's list of "America's Top 50 Affordable Courses" and all three courses at Grand National are listed among the nation's 40 Super Value courses by Golf Digest's "Places to Play."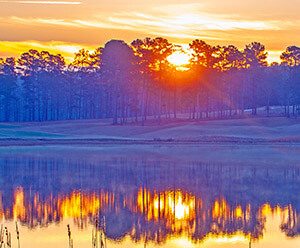 These courses begin with the quite difficult Short Course, which is an 18-hole par 3 venue that would easily rank in the best of this type anywhere in our country. It flows through a quickly changing landscape of rolling hills, sand traps and over water shots along the shores of Lake Sougahatchee. The Scottish-style Links Course follows a challenging but picturesque path through a minefield of natural obstacles and sand traps that tests even the best skills. The most scenic of the courses is the Lake Course which has 12 holes on Lake Sougahatchee and four absolutely unforgettable par 3 holes. Playing through this gorgeous scenery with so much water around can be very distracting to the senses. However, the most difficult part of this course are the fast, undulating greens that make putting an exact science.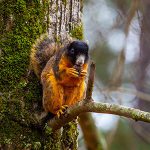 While playing these courses, nature lovers will be astounded by the very large and colorful fox squirrels and great number of deer. Though quite a few fox squirrels were encountered (for the first time) I saw one that was completely black and another that was almost orange.
Other than the outstanding golf venues, the Auburn Marriott Opelika Resort & Spa at Grand National offers its guests two outdoor swimming pools, a waterslide, an array of fantastic tennis courts and an indoor pool. Three restaurants, including the signature Southern Oak, offer diners many choices of enticing American classics, succulent steaks and fresh seafood. You can enjoy a drink at one of the bars, including a poolside bar and a bar/lounge. A computer station is on site and both wifi and wired internet are free in public spaces – plus a 24-hour business center.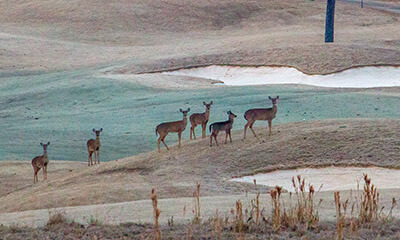 Ladies will love enjoying soothing treatments, massages and salon services at the Spa at Grand National that thoughtfully incorporates modern techniques with the natural elements of Alabama. The spa is a serene oasis tucked beneath lush trees that even the men will need after a day on the golf course. Offerings include: body scrub, couple's massage, eye treatments, facials, hair and scalp treatments, makeup services, manicures/pedicures, and more.
A short drive into the university town of Auburn can be very interesting as well for visitors … especially if you would like a different culinary experience! Niffer's Place (www.niffersplace.com) has become a mecca for Auburn University students and offers a very eclectic menu. Their specialty is a huge menu of unique hamburgers and I found the most tasty one to be The Fire Truck which is topped with bacon, pepper jack cheese, pico de gallo, jalapenos, buffalo and chipotle sauces.
The Auburn Marriott Opelika Resort & Spa at Grand National consists of 2,000 pristine acres that embrace every aspect of nature and modern leisure along the famous and award-winning Robert Trent Jones Golf Trail in Alabama. Few times in my travels as a writer have I found such personal attention to every aspect of my needs. Staff and management here have literally replaced the word "no" with the words "how can we help." Like one former visitor wrote on the internet about the Grand National, "Where the pavement ends … heaven begins!"
PHOTOS: by Bill Vanderford
Bill Vanderford can be reached at jfish51@aol.com or www.georgiafishing.com.