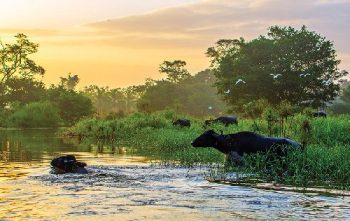 As a travel writer and photographer, this coronavirus has made my world shrink dramatically into the realm of my computer. Therefore, I find myself looking back through photos and remembering unforgettable places and times from the recent past. Probably the most vivid of these was nearly two years ago when I spent a glorious week in the rainforests of Costa Rica at the Rio Parismina Lodge.
On my return, I shared my experience in words and pictures on a smaller scale in Lakeside, but after reviewing the photos again … I would like to share less writing and more visual.
The Costa Rican rainforest is difficult to describe, the ever-present beauty is even harder. However, an old friend of mine, Lynn Hannon, once wrote, "The immensity and energy of the jungle might overwhelm the spirit if it were not so surely a part of it. Monkeys and sloths move against a tall forest that presses so hard against the river's edge that it seems ready to stride across. There cannot be a more fertile place on earth!"
Click the video below to see Bill's images from Costa Rica.