The sound of music is bursting out all around Lake Lanier this summer with outdoor performances on stages, in amphitheaters, on city blocks, and near the water. The soundcheck hits on many levels. Country music? Check. Symphonic sounds? Check. Patriotic? Check. Rock? Check. Southern? Check. Beachy? Bluegrass? Check. It's all coming through a microphone near you.
Among the annual tuneful events returning this year is the Summer MusicFest presented by The Arts Council of Gainesville. The series kicked off in June with Banks & Shane to break in the new Gladys Wyant Performing Arts Pavilion at the Smithgall Arts Center in downtown Gainesville. Up next, July 3, the outdoor venue will boom with patriotic selections from hometown favorite, Northwinds Symphonic Band. On July 17, The Highwaymen Live conjure three country legends, Willie Nelson, Waylon Jennings and Johnny Cash.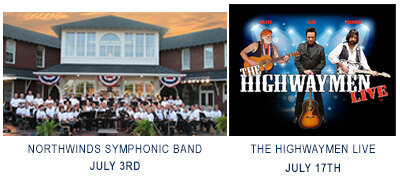 "We're so proud of our new outdoor stage and pavilion," said Arts Council Director Gladys Wyant, for whom the pavilion is named. The 50 feet by 50 feet covered stage can accommodate a large orchestra or handle 300 people on a dance floor.
Wyant likened the downtown Gainesville music experience to that of Atlanta's Chastain Park, but without the traffic, hassle, and huge crowds that never stop talking. People can bring their own picnics or dine from charcuterie boards and get drinks from a local vendor on site. Or, attendees can order dinner from restaurants around the square and have food delivered at the gate.
Concertgoers can purchase table seating for eight or bring their own comfy chairs, "anything short of a Lazy Boy (recliner)," Wyant chuckled. She's excited about bringing live music back to town after the arts center outdoor stage was quiet last year. Two concerts next month from hometown Riverstreet Aug. 7 and beach, rock and soulsters Back in Time Aug. 21 round out the summer series.
In mid-June, Wyant was busy contracting bands through October. "The new venue has so many more opportunities than we've had in the past," she said. "I think it's special for several things. It's right downtown where you can eat at restaurants or order and have meals delivered. There's access to parking." She added that the center is down the street from construction around the Gainesville square, so accessibility is not an issue.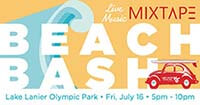 Another music venue has crescendo-ed into a favorite by the water. Lake Lanier Olympic Park follows up the June charity The Lake Show with Gainesville's annual Beach Bash July 16 and a new Southern Roots Lake Jam July 24. Food and drink trucks roll in for both.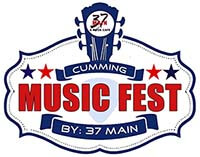 The Cumming Fairgrounds will rock a solid two days with the Cumming/37 Main Music Fest, with cover bands reverberating from the 60s to the present. The July 24 and 25 rockathon will sizzle with performers channeling Bruno Mars, Elton John, Joan Jett, and many more.
Need to calm down? Settle into a bluegrass Saturday in Dahlonega where pickers bring their fiddles and banjos in tribute to the town's forbears from the Appalachian mountains.
Here's a rundown on where to hear live music outdoors this summer: